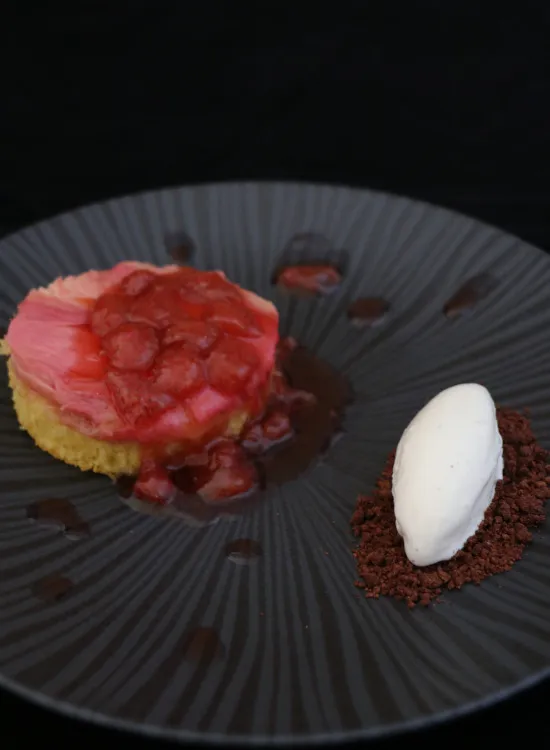 DESSERT INSPIRATION: RHUBARB UPSIDE-DOWN DESSERT
Rhubarb and vanilla upside-down cake with warm strawberry syrup, chocolate soil and Vanilla with Vanilla Pod ice cream.
For the cake
2-3 sticks of Rhubarb, trimmed and cut into 10cm lengths (dependant on cake tin size)
2tsp vanilla extract
195g caster sugar
115g Butter, plus extra for greasing
2 medium eggs
115g self-raising flour
For the strawberry syrup
400g Strawberries, cut up into small squares
1 Fresh lemon
4tbsp granulated sugar
2tbsp water
1/2 tbsp cornflour
For the chocolate soil
70g plain cooking chocolate, cut into small pieces
100g caster sugar
2 tablespoons water
Yorvale ice cream, to serve
Method
For the Chocolate Soil
1. Heat the sugar and water in a pan until it reaches 130oC
2. Remove the pan from the heat and add in the chocolate pieces, stirring straight away with a whisk until all the chocolate is coated in the sugar
TIP: Pour the chocolate soil into a container then fill the pan with water and bring to the boil to remove the remainder of the chocolate
For the Strawberry Syrup
1. In a large saucepan bring the strawberries, lemon juice, sugar and 2 tbsp water to a boil over medium-high heat, stirring frequently.
2. Reduce heat slightly and allow to boil until juices are extracted and strawberries have softened stirring occasionally.
3. In a small bowl whisk together the remaining water and cornflour until smooth, pour the cornflour mixture into the strawberry mixture and let boil, stirring constantly for 1 minute.
For the rhubarb upside-down cake
1. Put the rhubarb in a pan with ½ the vanilla extract, 80g of the caster sugar and 100ml water. Simmer for 5-8 mins, or until the rhubarb is just tender. Set aside to cool
2. Preheat the oven to 180C/160C Fan/Gas 4. Grease and line the base of a 10cm cake tin.
3. In a large mixing bowl, beat together the butter, eggs, flour, remaining caster sugar and remaining vanilla extract until smooth.
4. Use a fork to arrange the pieces of rhubarb in the bottom of the tin.
5. Pour over the cake mixture, smoothing down with the back of a spoon. Bake for 25 mins, or until the sponge is golden and springs back when touched lightly.
6. Turn out the cake onto a plate, drizzle over the strawberry syrup, spoon on the chocolate soil and place a scoop of Yorvale Vanilla with Vanilla Pod ice cream on top of the bed of chocolate soil.
Serve and enjoy!
Fancy giving this recipe a try? Make sure you tag us in your creation @yorvaleltd and use the hashtag #LoveYorvale