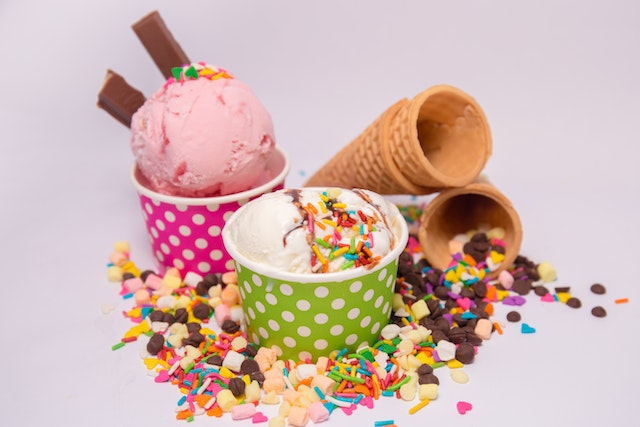 Exciting Ice Cream Flavours That Will SKYROCKET Your Sales (Bye Bye Vanilla, Hello Chocolate Banana Split!)
This summer, we're all about taking a walk on the wild side. We've seen it all, the classic flavours like vanilla, strawberry and chocolate that have been around for decades are still going strong. However, it's the unique ice cream flavours that can help to get you noticed and attract more customers over the summer months. In this blog, we look at three new and exciting ice cream flavours for your customers to try this summer while also skyrocketing your sales.

1. Strawberry Shortcake
If you're looking for an indulgent take on strawberry ice cream, look no further than Strawberry Shortcake. This flavour was created by blending sweet strawberries, shortcake biscuits and rich vanilla ice cream. The result is an ice cream that tastes just like a slice of strawberry shortcake dessert!
2. Chocolate Banana Split
Chocolate banana split is a fun, more exciting chocolate flavour that's perfect for a summertime dessert. It's a delicious blend of creamy chocolate and fresh bananas that your customers will love. This flavour is especially popular during the summer months because it offers a cool and refreshing break from the other traditional flavours of ice cream. It also makes for an easy treat for children, combining two of their favourite flavours!
3. Tropical Fruit
If you're looking for a way to stand out from the crowd in this competitive market, consider introducing tropical fruits into your menu. Tropical fruit is full of bright, bold flavours that your customers will love. The combination of tropical fruits with ice cream creates a delicious, creamy texture that is sure to please any customer wanting a taste of summer in ice cream.
How To Sell New Flavours
One of the most exciting things about summer is the chance to enjoy some of your favourite ice cream flavours. We've found that vanilla is one of the most popular flavours and it's what people tend to go for the most. However, to boost sales, consider pushing more exciting flavours to attract your customers.

Get staff to recommend flavours or give out tasters. Get them excited about the new flavours you're offering and get them involved in promoting them. Maybe even offer additional single FREE scoops with regular orders. Maybe push flavours by using deals or making their weekly specials and word of mouth from staff. Customers can get basic flavours ANYWHERE, they'll come back to you for the special, memorable flavours!
Get in touch with Yorvale today to find out more about how you can skyrocket your summer ice cream sales!

Image Source: Pexels